1. Introduction
The aim of this document is to describe the architecture of the solution, first by defining the business concepts it deals with and then showing how this translates into the technical architecture.
2. Business Architecture
OperatorFabric is based on the concept of cards, which contain data regarding events that are relevant for the operator. A third party tool publishes cards and the cards are received on the screen of the operators. Depending on the type of the cards, the operator can send back information to the third party via a "response card".
2.1. Business components
To do the job, the following business components are defined :
Card Publication : this component receives the cards from third-party tools or users

Card Consultation : this component delivers the cards to the operators and provide access to all cards exchanged (archives)

Card rendering and process definition : this component stores the information for the card rendering (templates, internationalization, …​) and a light description of the process associate (states, response card, …​). This configuration data can be provided either by an administrator or by a third party tool.

User Management : this component is used to manage users, groups, entities and perimeters.
2.2. Business objects
The business objects can be represented as follows :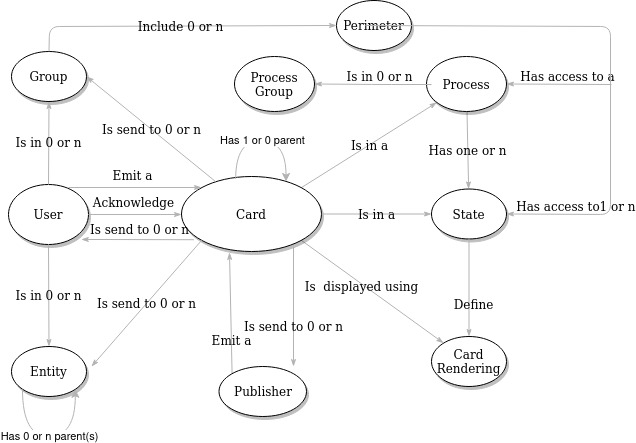 Card : the core business object which contains the data to show to the user(or operator)

Publisher : the emitter of the card (be it a third-party tool or an entity)

User : the operator receiving cards and responding via response cards

Group : a group (containing a list of users)

Entity : an entity (containing a list of users)

Process : the process the card is about

State : the step in the process

Perimeter : for a defined group the visibility of a card for a specific process and state

Card Rendering : data for card rendering